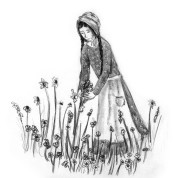 Do you ever wish that you could grow up in the 1850's? Why or why not?
Summertime was often a fun season, especially for the Woodsmall sisters. Even if some of them (Bethany for example) wasn't fond of the outdoors, they still enjoyed it.
Here is a list of the top activity that Carolyn, Bethany, and Laura would choose to do this summer.
Carolyn's choice: Pick Wildflowers
Wildflowers were a favorite of Carolyn's and whenever she could, she would go out and pick some. This is mostly because wildflowers remind Carolyn of her beloved Momma.
"It was such a beautiful day today that I decided to go on a walk. As I was walking through the woods, I caught sight of a beautiful patch of wildflowers…I still remember walking with Momma one day when I was younger. 'Carolyn, always remember that wildflowers are God's way of making weeds beautiful.'"
Bethany's choice: Berry Picking
While berry picking may seem like a chore for some 13-year-olds, it was fun for Bethany! She loved to pick raspberries, strawberries, and blueberries–really any berry that she could use to make a pie! Picking berries was also a perfect to spend time with her sisters and be able to talk.
"Laura and I picked wild strawberries today. Momma Hannah had thought that the strawberry season was over, but nevertheless, as we were walking through the woods, I caught sight of some bushes. 'Laura! Make your apron like a basket. We are going to bring strawberries home for dessert tonight."
Laura's choice: Fishing
Fishing may not be a top choice for girls, but growing up with brothers, Laura has always enjoyed being outside especially when it includes fishing, boating, or just wading in the creek.
"Yesterday when our chores were done, Henry, Jake, Bethany, Rosie, and I went to the lake to fish and have a picnic lunch. Bethany allowed Rosie to come along, most likely because Rosie's pleading finally gave her heart a tug. It is nice to have her along, but she was always playing at the edge and I had to make sure she didn't take a tumble. Though I wasn't able to fish much, I did try to teach Rosie some of the basics. She didn't really get it. Once, when I caught a fish, I took it off the line to show it to her."
So which Woodsmall sister are you most like? What is your favorite summertime activity?