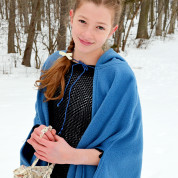 Want a sneak peek at who Laura is and what Accepting Change will be about? Read below!

~ ~ ~ ~ ~
Friday, August 3, 1860
I am not a writer. I much prefer playing out of doors with my brothers than any inside task my sister or Momma require of me. For whatever reason, my sisters believe that because they enjoy writing in a diary, I would as well. And now I am jumping ahead of myself. How Carolyn would scold me if she read this!
My name is Laura Anne Woodsmall. Today is my thirteenth birthday, which explains the gift of the diary from my sisters. Here I was, hoping for something like a horse to ride or seeds for my garden, but no. My sisters, Carolyn and Bethany, adore traditions. Carolyn is always reminding us of this tradition or that tradition. She and Bethany both received diaries for their thirteenth birthdays and thus assumed that I would like one as well.
When I told Carolyn my worries, her eyes just danced. "Dear Laura. Stop being so pessimistic. You don't have to write in it every day. Besides you may enjoy it!"
"Not everyone is a writer like you, Carolyn," I countered, which brought laughter from the rest of my family.
Bethany gave me a hug, "Not to worry. You won't turn into a writer, but please, try to think positively about it."
And I am. I am trying to think as Carolyn or Bethany would, but I find that I am not like them in any way. I even asked Bethany what she wrote in her diary, because I was afraid I didn't have anything to write about. She only told me that I would find my own style. Well, that wasn't very helpful.
Deep breath. Think positive thoughts.
As I said, I have two older sisters. My oldest brother Jesse married Heather Bow in February, 1859. They now live behind my house and through the woods. It isn't very far, especially for a girl like me.
My step-brothers, Henry and Jake, and I love to take walks through the woods. Well, they are more like adventures. They used to not like it when I tagged along, claiming that girls can't do the same things that boys do. I soon proved them wrong. Now they pretty much allow me to go anywhere I want with them!
Rosemary is the most energetic of our family. She is my half-sister, born to my Poppa and step-Momma. For only being a year and a half, Rosemary certainly knows how to get around. She often follows me around. But maybe that is because it is often my job to keep an eye on her. Momma and Bethany are often in the kitchen and, as soon as I finish chores or schoolwork, I am asked to watch her until dinner.
Carolyn is around some, too, but now that she and Scott Harp are (finally!!) courting, we don't see much of her. She is often at the Harp's house or else Scott is at our house. Carolyn often visits Jesse and Heather as well. I think she is yearning for when she will have her own house. Though I suppose I will miss her quite a bit.
I am not sure how to end, so I guess… good night? Though it does seem quite strange to be wishing my diary good night.
~ ~ ~ ~ ~
So what do you think? A favorite character? Any predictions on what will come next? Post a comment! I'd love to here what you think about Laura!