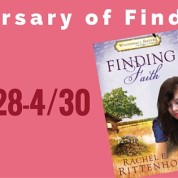 This week marks the 1 year-iversary that Finding Faith has been published. And I want to thank YOU, my readers, for all the support you have given me.
Carolyn, Bethany, Laura, and the rest of the Woodsmall family have been alive to me for so long and I am so grateful for the opportunity for you to meet them as well. I hope you have enjoyed knowing their likes and dislikes, celebrating with them in their joys and struggles, and living daily life with them.
Now there are two special activities going on this week to celebrate! The first is this rafflecopter giveaway. Go ahead and enter it for the chance to win a signed copy of Finding Faith (eligible to those living in the US only).
In addition to the giveaway, the kindle version of Finding Faith is available for $0.99 today through Thursday. Don't miss out!