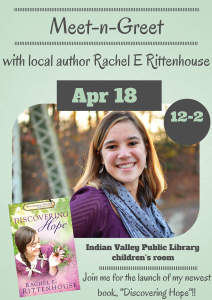 Come celebrate with me the launch of my second book, "Discovering Hope"!!
You will be able to get both your books signed by me, enter in some awesome giveaways, and get the chance to meet Bethany Woodsmall!
Come on out to the Indian Valley Public Library on April 18 from 12-2pm.
And there is also an event special: 1 book-$12 and 2 books-$20. Don't miss this offer!!
So…will you be there??