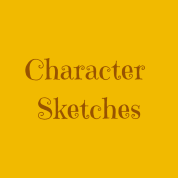 Hannah Cole Woodsmall is Carolyn and Bethany's step-mother. Hannah moved to Minnesota with her first husband and two sons from Chicago. After a terrible accident, her husband died leaving Hannah a widow. In 1856, Hannah married Poppa, two years after the death of Momma. It is an adjustment living with a new momma, especially with the death of Momma fresh on everyone's mind. Hannah does her best to respect Momma as well as give the children the motherly affection and space that they need.
Fun Facts about Hannah:
Full Name ~ Hannah Rose Cole (Miller) Woodsmall
Hobbies ~ cooking and baking, gardening, sewing
Lifelong dream ~ to have her own family
Birthplace ~ Richmond, Virginia
Most exciting trip ~ trip from Virginia to Chicago
Home ~ prairie house in Minnesota
Siblings ~ older brother James, older sister Sandy, and younger brother Hiram
Children ~ Henry and Jake (from first marriage) and Jesse, Carolyn, Bethany, and Laura (step-children)
Meaning of "Hannah" ~  Grace
Personality ~ sweet, even-tempered, courageous, strong
Favorite color ~ blue
Hair Color/Eye Color ~ blond hair and green eyes 
Favorite Tradition/Holiday ~ family dinners, especially Easter and Christmas
Life Verse ~ Proverbs 3:5-6
Birthday ~ February 18
Any other questions you have about Hannah? Leave a comment below!