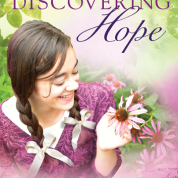 Here is the moment we've all been waiting for…Discovering Hope is published and now available on Amazon! This is the sequel to Finding Faith and Carolyn's sister Bethany has just turned 13. Join Bethany as she searches for hope that she and her family so desperately need. 
And if you are excited about this too, would you please share this book with your family and friends?? By sharing you can share to any social media, give a copy to a friend, and even just keep talking about it!
Stay tuned for some behind-the-scenes in Discovering Hope as well as a giveaway opportunity!
To purchase, chick HERE
And if you enjoyed reading, please let me know! I love hearing from readers like you!