Today, I'd like to introduce you to October's featured reader, Autumn Detweiler. Many of you might recognize her as being the illustrator for my book. Autumn is a very dear friend and she has read "Finding Faith" many times! 🙂 So, I hope you enjoy reading about what she thinks of "Finding Faith"! 
Finding Faith is an amazingly touching book. The plot draws you in and keeps you interested until you are done. I remember starting the book, and looking forward to the next time that I could read it!! 🙂 (To all you readers out there waiting for the second one, I already read an edited draft, and loved that one too!! Rachel's writing and books only get better!)
My favorite character would be Poppa. He is such a strong, supportive leader in the family, who is strong and stable, especially when times get tough.
I would say a big spiritual takeaway from this book was how such a servant Carolyn was to her family. She sacrificed going to school, as well as hanging out with friends, in order to take care of the household for her family. The amazing fact was that she did this all without hardly complaining. Now that's a servant– a servant who puts her own desires and needs in front of her own; and by doing so, she was serving God.
Since I haven't read a pleasure book in months (college life ;), I don't have many favorite authors/books. But I do know I love John Piper's Don't Waste Your Life, an amazing book that has challenged me to live my life on a new level for the Lord.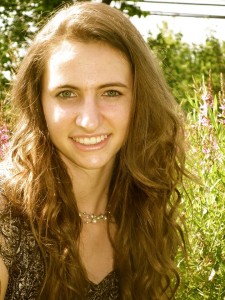 About Autumn: 
I am a college sophomore working towards my degree in nursing. Once I graduate with my B.S.N (bachelor's in nursing), I hope to use this degree in missions, as this has always been my dream to help people that don't have medical help otherwise. To get some experience in a medical setting, I currently am a food service operator at Grand View hospital. So if ever you're in the hospital and ordering from the kitchen, you might just talk to me on the phone. 🙂 When I'm not studying for college or working, this limited amount of free time is spent on playing guitar, running with my dog Eowyn, and playing a game with my family.