I'd like to introduce all of you readers to something new that I will be starting. Once a month, I will be featuring a reader, such as you! If this is something that you would like to be involved in, please email me to let me know! I'd love to feature you on my blog. 
Our first featured reader will be none other than my sister Kaitlyn. Kaitlyn has been one of my avid supporters throughout this whole publishing process, so I am honored to have her guest post here today! Enjoy!
First of all, I would like to thank my wonderful, talented sister (nah, definitely not biased) for asking me to write this guest post. I'm so excited that she's followed her calling to write wholesome, Christian books for younger and older ladies alike! I can't wait to see where God leads her next.
When I read Finding Faith, it was like a breath of fresh air. The fact that she weaves Bible verses throughout the context of the book is wonderful. It was exciting following Carolyn throughout the course of a year, walking through her challenges and growing in her faith as if I were right by her side. The story captivated me, and by the end of the book, I felt as if I knew the characters. Each one of them has so much personality. I also liked that it was Carolyn, the main character, who was describing how she felt in each situation. It gave a whole new twist to the plot. Rachel perfectly captures the humor, struggles, and sometimes bleakness of everyday life.
A character I especially loved was Bethany. Her love of learning and crafts just connected with me, but it was also her compassion and selflessness that captured my attention. Whatever life threw at the Woodsmall's, Bethany – or Bethy, as she was nicknamed – was there to offer comfort and give a hug. She was always concerned with another person's feelings before her own. Another trait I noticed in Bethany is that she always tries to look on the bright side of things and trusts God to work things out. I think we could all learn something from her.
Throughout the whole book, the Woodsmall's faced many trials and heart-breaking moments. I felt that the underlying theme of trusting God no matter what happens can relate to a lot of us today. I know it had an impact on me! It's important to remember that whatever comes our way, God has a purpose. His way is greater than our way, and don't forget He knows everything!
Romans 8:28 says, "And we know that for those who love God all things work together for good, for those who are called according to his purpose." I feel that this verse sums up the whole book to a T. If we trust Him, love Him, obey Him, and follow Him with all our hearts, God will make everything work out okay.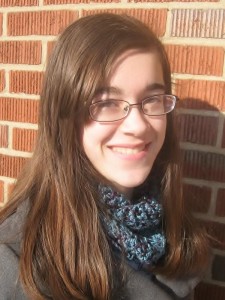 About Kaitlyn:
I'm a crafty, energetic, school-lovin' sophomore with a passion for blogging about homeschooling and my faith in Jesus Christ on my blog, www.kaitlynrittenhouse.com. I love crocheting, knitting, singing/playing my guitar, and going for runs with my Dad in my free time. I'm a track runner as well, with the 400m and 800m currently as my main events. I also like running 5k's, swimming, and having fun at the beach in the summer. My favorite subjects in school are math and science, with literature coming in close behind (I love poetry and drama). Singing in a homeschool choir is also one of the things that I look forward to during the school season.