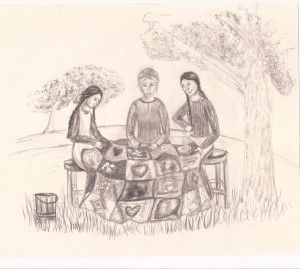 Are you like some readers who are anxiously awaiting the coming of book 2, Discovering Hope? Well, the book itself is not ready yet, though I am still sticking with my goal of this Winter '14/'15 for it to be published! Instead I have a summary for you as well as some updates at where the book is and how it is coming along!
Discovering Hope is the diary of a 13-year-old girl, Bethany Woodsmall, younger sister to Carolyn, the beloved character of Finding Faith. Bethany and her family struggle to adjust to the many changes in her family, and it seems she is stuck in the middle with her family pulling two different ways. Will Bethany be able to discover the hope of God's faithfulness as she experiences these difficult times?
Does that whet your appetite enough? 🙂
In regards to where I am in the process for this book, the final edits are just being completed and then I will need to send out some review and proof copies. A photo shoot for the front cover was completed  and also the cover is in the process of being designed! I also have three drawings completed by my amazing illustrator, so I would say that we are well on our way to the publishing goal!
What did you think of the summary? Is there anything you'd like to see happen in "Discovering Hope"?