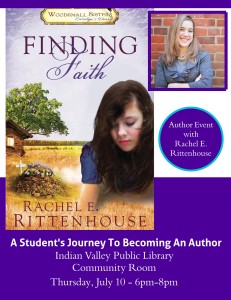 This Thursday night, I will be having a author event and book signing at the Indian Valley Public Library in Telford, PA. The event will be held from 6pm-8pm. Throughout the whole evening, you will have the chance to enter a drawing to win a free, signed copy of Finding Faith! The winner be announced at 7:30pm so you want to make sure you are there for that!
Around 6:30pm, I will begin my presentation of my journey to becoming a published author. The time following that will be a Q&A time where you can ask questions about my writing, publishing experience, or Finding Faith!
Books will be available for purchase there or you can bring your already purchased book to get it signed. Please share with your friends and anyone who may be interested.
Looking forward to seeing you Thursday night!